The Quidditch World Cup is a tournament featuring the world's top international Quidditch teams, held every four years.
The first Quidditch World Cup
Edit
The first Quidditch World Cup was held in 1473. Only European teams participated. The final was one of Quidditch's most violent ever matches. It featured Transylvania against Flanders. The match included all sven hundred fouls in Quidditch, many never seen before the game. They included the Transfiguration of a Chaser into a polecat, the attemted decapitation of a Keeper with a broadsword and the Transylvanian captain releasing one hundred vampire bats out onto the pitch, from beneath his robes.
The four hundred and twenty-second Quidditch World Cup
Edit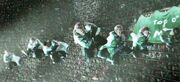 The four hundred and twenty-second Quidditch World Cup was held in England in 1994. The British teams however, did not perform well. Transylvania defeated England by 390 points to 10, Scotland lost to Luxembourg and Wales lost to Uganda. Ireland flattened Peru in the semi-finals.
The final was played on August 22, between Ireland and
Bulgaria
. The Irish mascots were Leprechauns and the Bulgarian mascots were Veela. Match commentary was provided by
Ludo Bagman
. The contest was refereed by Egyptian Hassan Mostafa. The Irish team that day was Troy, Mullet, Moran Ryan, Connolly, Quigley and Lynch, all using the new Firebolt broomstick. The Bulgarian side was
Zograf
, Ivanova, Dimitrov, Levski, Volkov, Vulchanov and
Krum
. The Irish Chasers dominated the match. Bulgaria's
Seeker
, Viktor Krum pulled off a magnificent Wronski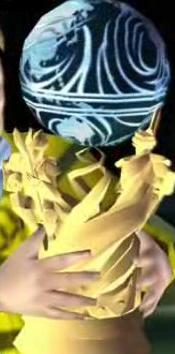 Feint, which Ireland's Seeker, Aidan Lynch was fooled by, and ended up painfully colliding with the ground. Krum himself was struck by a
Bludger
which gave him two black eyes and a broken nose. Krum caught the Snitch, but it wasn't enough to make up for the Irish Chasers superior perfomance. The Irish finished as the victors with a win of 170 points to 160.
Shortly after the game, Death Eaters stormed the Quidditch World Cup campsite, attacking the tents of witches and wizards. Ministry officials tried to stop them. When Barty Crouch Jr. cast Monsmondre and the Dark Mark appeared in the sky, the Death Eaters fled.